Introduction
With more education and training specific to the foot and ankle than any other healthcare provider, foot and ankle surgeons are the leading experts in foot and ankle care today.
The American College of Foot and Ankle Surgeons (ACFAS) invites you to take a new look at foot and ankle surgeons.
Play Video
What do Podiatric Foot and Ankle Surgeons do?
Podiatric Foot and Ankle Surgeons are Doctors of Podiatric Medicine (DPM) who specialize medically and surgically in the diagnosis, care, and treatment of patients with disorders of the musculoskeletal system of the foot and ankle and associated structures.
This includes the bones, joints, ligaments, muscles, tendons, nerves, and skin. Podiatric foot and ankle surgeons use medical, physical, and rehabilitative methods as well as surgery to treat patients of all ages, and when necessary, consult with a variety of specialists in the fields of renal/endocrine, rheumatology, pediatrics, vascular, orthopedics, and plastic surgery, to develop a comprehensive treatment plan for patients.
Education
Podiatric medical school curriculum and post-graduate training provides the robust clinical background necessary to recognize medical problems, admit patients to a hospital when necessary, and contribute significantly to the coordination of care appropriate for each patient.
Credentials
Podiatric Foot and Ankle Surgeons have the following credentials:
Completed of a Doctoral program in Podiatric Medicine. The curriculum covers basic and clinical sciences, surgery, internal medicine, pediatrics, family medicine and other medical specialties.
Completed of accredited graduate medical education (residency training) focused on medicine and surgery of the foot and ankle
Many podiatric foot and ankle surgeons also complete advanced fellowship training in foot and ankle surgery
Completion of the state and national podiatric medical licensing examination
Annual requirements for medical and surgical continuing medical education credits
Board certification: Certified by or eligible for examination and certification by the American Board of Foot and Ankle Surgery and the American Board of Podiatric Medicine
Each member holds membership in the American College of Foot and Ankle Surgeons
The Podiatric Difference
When selecting a Doctor and or Surgeon to care for your foot and ankle, be sure to ask about:
Medical school education
Accredited residency training
Areas of practice specialization
Experience in your prescribed treatment (surgical and/or non-surgical)
Frequently Asked Questions
Learn More
We invite you to visit Take a New Look at Foot and Ankle Surgeons to learn more about why Podiatric Foot and Ankle Surgeons are the premier choice for foot and ankle care.
For more information, download these fact sheets: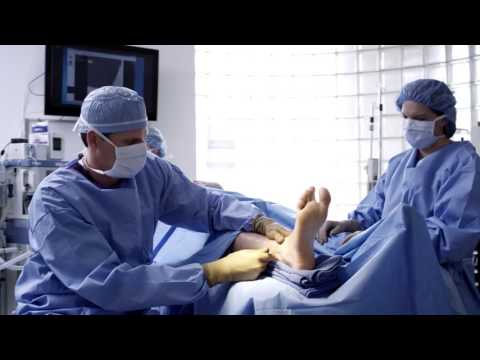 Doctors of Podiatric Medicine: The Experts in Medical and Surgical Care of the Foot and Ankle!
Play Video